Our Staff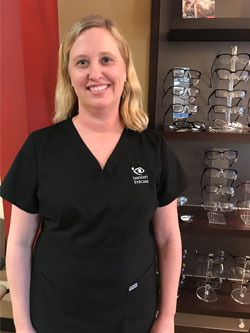 Mary Phillips, Office Manager
Mary is the Office Manager at Insight Eyecare, and the spouse of Dr. Phillips. She is a graduate of the University of Tennessee, where she earned her B.S. in Business Administration in 2002. In 2010, she received her certification to teach K-6th grade through Lincoln Memorial University.
She loves spending time with her family and traveling to new places. Mary also enjoys watching the Vols, and likes to play tennis in her spare time.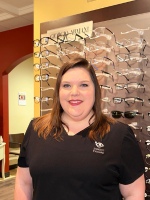 Whitney Smart, Front Desk Associate
Whitney is a Knoxville native. She grew up in Fountain City and now lives in Powell with her husband, Tyler. Her background is in administrative childcare which makes her a perfect fit for our pediatric friendly office. In her spare time, she loves spending time with family, traveling and taking any chance she gets to put her toes in the sand!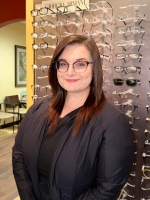 Miranda Robey, Technician/Optician
Miranda is a graduate of Roane State Community College, where she earned her Associates degree in Opticianry. She is a Licensed Optician in the State of Tennessee. Miranda loves the outdoors, and often frequents the hiking trails at Ozone Falls and Frozen Head State Park. She enjoys playing board games with her family and friends or hanging out with a good book in her hammock!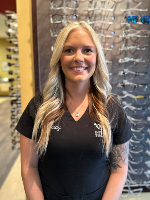 Cassidy Givens, Optician
Cassidy works with filing claims on insurance plans and assists with being a technician when needed. She previously worked for several years as a pharmacy technician. She was born and raised in TN, but moved to Knoxville several years ago. She is a proud mom of a little boy. During her free time, she enjoys spending time with her family and friends, playing games and cooking.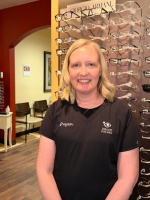 Grayson Pursch, Insurance/Billing Specialist
Grayson works on insurance payments, accounts receivable, and inventory. She graduated from the University of Tennessee, Knoxville with a bachelor's degree in Finance. She also received her Master's Degree at Tennessee Tech University in Finance and a minor in Accounting. Grayson is married and has two children. She loves crafts, painting, and true crime. In her spare time, she likes to travel and to spend time with friends and family.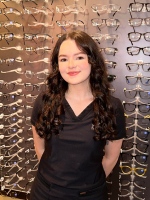 Tia Arthur, Optician
Tia was born and raised in East Tennessee. She graduated from Carson-Newman University in 2020 with a B.A. in Biology, a minor in Applied Psychology, and a minor in Criminology. She has been working as an Optician since 2021. She currently lives in Knoxville with her husband Andrew and their two dogs, Boston and Baloo. Tia spends her free time reading, playing games, or relaxing at home with her family.