Dr. Hal Phillips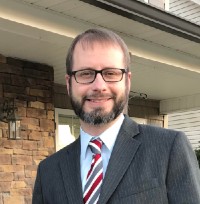 Dr. Hal Phillips grew up in Kingsport, TN. He attended the University of Tennessee in Knoxville, where he graduated in 2003. He continued his education by attending the Southern College of Optometry in Memphis, and graduated in 2007. Upon graduating Optometry school, Dr. Phillips moved to Morristown, TN, where he practiced Optometry for 6 years at a family owned practice. In early 2013, he began plans to reach his goal of opening Insight Eyecare, located in Knoxville. Dr. Phillips's main goal is to enhance the vision of his patients for a better quality of life.
Dr. Phillips has been married to his wife, Mary, since 2004. They have 2 children, Parker (12 years old), and Ellie (10 years old). He also has another "child," Millie, a Cocker Spaniel.
When football season rolls around every year, you will find Dr. Phillips at Neyland Stadium. He is an avid UT football fan, but also enjoys just about any sport from NFL football to golf. Travelling to new places is also something Dr. Phillips enjoys. When spending time with family, he enjoys going to the movies or relaxing around the house.
Dr. Phillips is a member of the Tennessee Association of Optometric Physicians and the American Optometric Association.
American Optometric Association: www.aoa.org
TN Association of Optometric Physicians: www.taoponline.org